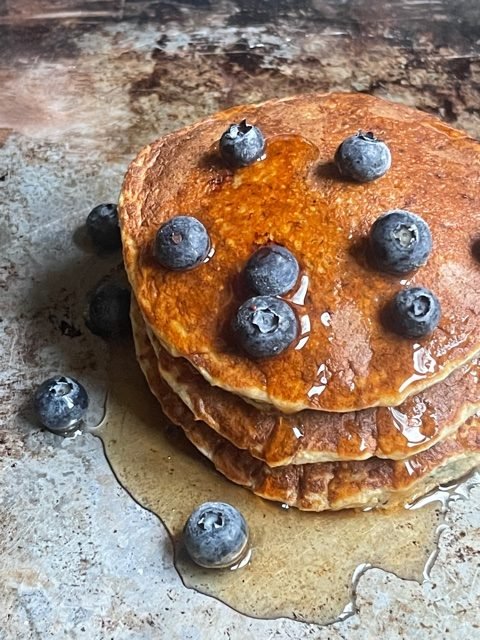 These banana oat pancakes could not be easier to make.  The blender does all the work!
How do you make fluffy oat pancakes?
My friend Erica is the QUEEN of banana pancakes.  She uses one banana, one egg and a pinch of salt.  My first question to her was "where is the baking powder?"  That is the secret to fluffy pancakes with our without flour.  Simply let the batter sit overnight, or better yet, the night before for a quick breakfast.
What do you need to make banana oat pancakes?
oats
banana
baking powder
salt
unsweetened almond milk (or any milk)
that's it
What is the best sugar free pancake syrup?
Being diabetic, I've literally tried every sugar free pancake syrup on the market.  While Smucker's is up there, it is hit or miss if any store near me carries it.  Cary's Sugar Free pancake syrup is my favorite, also the cheapest and only 5 calories and zero points for 1/4 cup.
Ingredients
1/2 cup quick oats
1 medium banana
1 large egg
2 teaspoons baking powder
1 tablespoon almond milk
pinch of salt
Instructions
Blend ingredients in a blender. Let sit 30 minutes or overnight.
Using 1/3 cup measuring for the batter, pan fry for 3-4 minutes a side over medium low heat.
Optional: 1/2 cup frozen blueberries.
Notes
On #wwpurple – this is zero points, on #wwblue it's 2 points and on #wwgreen it's 3 points.
Nutrition Information:
Yield: 2
Serving Size: 1
Amount Per Serving:
Calories: 155Total Fat: 4gSaturated Fat: 1gTrans Fat: 0gUnsaturated Fat: 2gCholesterol: 93mgSodium: 635mgCarbohydrates: 26gFiber: 3gSugar: 8gProtein: 6g
Don't like bananas in your pancakes?  Try my cottage cheese blueberry pancakes – these are gluten free too!