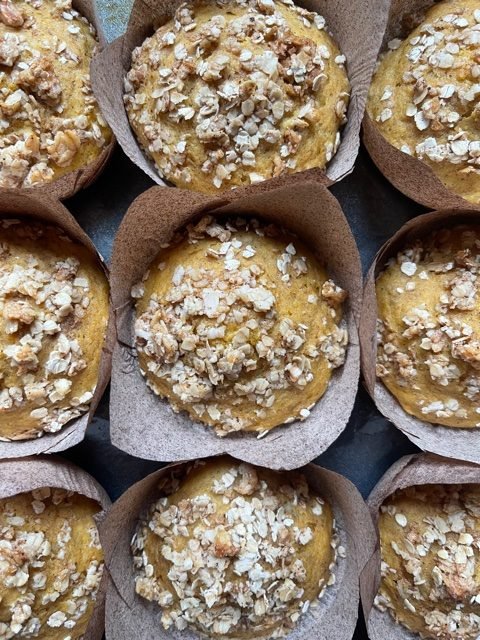 Waking up this Sunday morning I had a taste for both pancakes and muffins.  So I decided to make banana pumpkin pancake muffins!
How do you get muffin tops?
The secret to getting a muffin top is baking the muffins at 425 for the first five minutes.  I used to bake the muffins at 425 the whole time, but I found that the muffins weren't as moist.  By bringing the temperature down to 375 for the last ten minutes of cooking, I get a nice muffin top and a moist muffin at the same time.
How do you get fluffy muffins?
Let the baking powder have time to do it's magic!  Much like when I make pancakes, I let the batter sit.  Same is true for muffins.  Usually 15-20 minutes is plenty.  You'll know it's working when you see bubbles on the top of your batter.
What ingredients do you need to make muffins?
With a well stocked pantry, you should have most of the ingredients on hand to make muffins:
flour (I used self-rising but all-purpose works great too!  
sugar (I used a combination of granular sugar, sugar free pancake syrup and Truvia brown sugar)
eggs
baking powder
baking soda
salt
How do you make muffins gluten-free?
When I was making my cookbook last year with the skinny pizza dough, I had the chance to use pretty much every gluten free flour on the market.  Beware because some gluten free flours are made with things like chickpeas and coconut, which makes for a dense final product.  Bob's Redmill 1 to 1 Baking (made with white rice flour and xanthan gum) and Divided Sunset gluten free flours are the two best that I found.  The Divided Sunset brand was found at Walmart.
My crumble topping is made with quick oats, Safe + Fair full stacked granola (that smells and tastes just like pancakes!) and a tablespoon of light butter.
These paper liners are so cute.  You can find them online for $13 for 100! 
Ingredients
1/2 cup canned pumpkin
2 ripe bananas
3 eggs
1/4 cup Greek yogurt
1/8 cup sugar
1/3 cup Truvia brown sugar
1/3 cup sugar free pancake syrup
2 teaspoons baking powder
1 teaspoon baking soda
1/2 teaspoon salt
2 1/4 cups self-rising flour (regular flour is fine)
1 1/2 teaspoons pumpkin pie spice
1/3 cup quick oats
1/3 cup safe + fair full stacked granola
1 tablespoon light butter
Instructions
Heat oven to 425 degrees.
Mix the pumpkin, bananas, yogurt, sugar, eggs, truvia brown sugar and pancake syrup together.
Mix in the baking powder, baking soda, salt, flour and 1 teaspoon of the pumpkin pie spice.
Divide muffin mixture between 12 muffin cups.
Mix the oats, granola and butter together. Divide crumble topping on top of each muffin.
Bake at 425 for 5 minutes, then reduce heat to 375 and cook for 10 minutes longer.
Let sit 10 minutes before you try not to eat all dozen in one sitting.
Nutrition Information:
Yield: 12
Serving Size: 1
Amount Per Serving:
Calories: 236Total Fat: 5gSaturated Fat: 1gTrans Fat: 0gUnsaturated Fat: 3gCholesterol: 48mgSodium: 591mgCarbohydrates: 49gFiber: 3gSugar: 16gProtein: 6g
I have so many recipes for pancakes.  Check out:
If you do try these, be sure to come back and give the recipe a review.  Thank you!