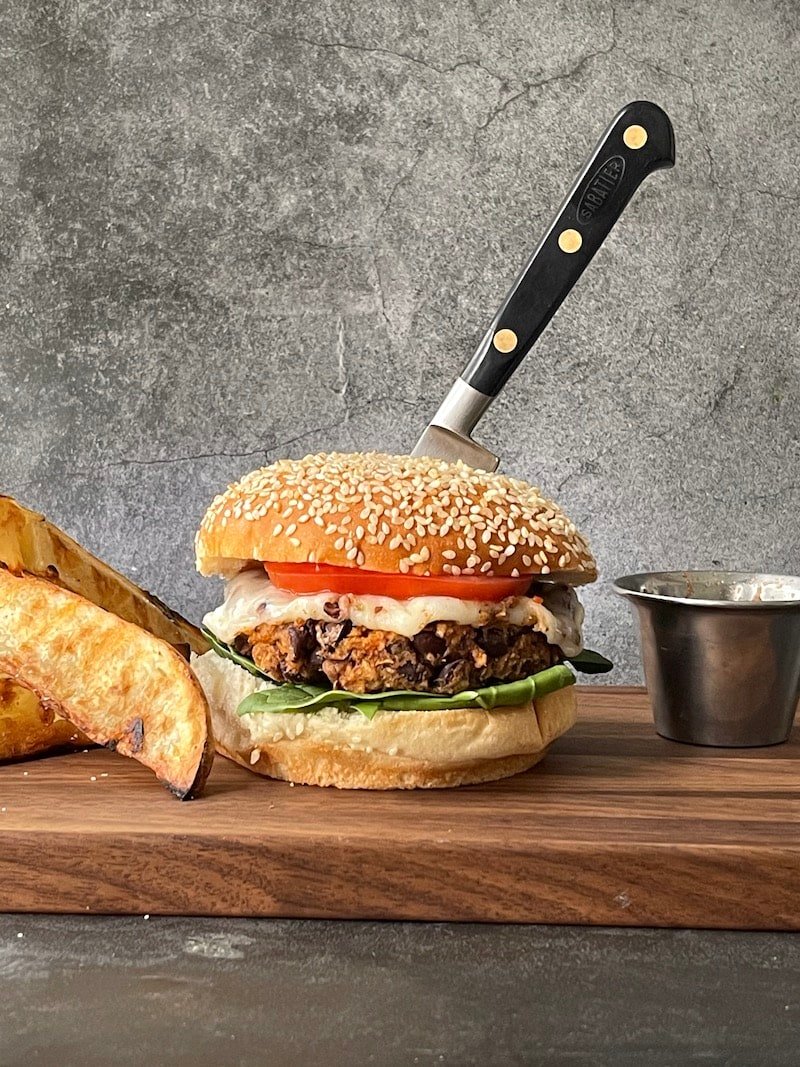 I am a carnivore through and through but I love these black bean burgers.
The secret to these burgers is freezing the patties for 20 minutes before hitting the grill so they don't fall apart when you try to flip them.
The best way to press these burgers is in a wide mouth jar lid.  Simply lay saran wrap on the bottom, add the bean mixture, and use the lid to press the patty into shape.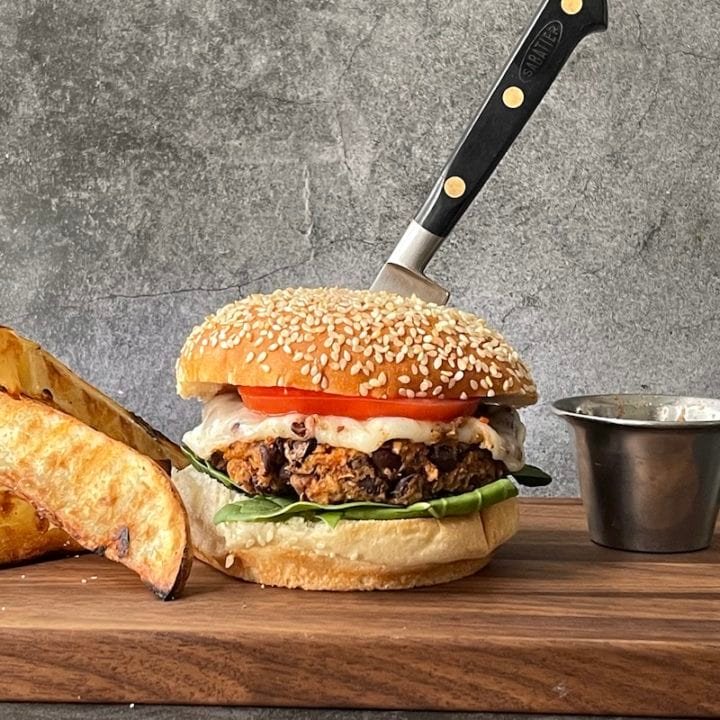 Black Bean Burgers
Yield:
4 burgers
Prep Time:
5 minutes
Cook Time:
20 minutes
Additional Time:
20 minutes
Total Time:
45 minutes
These black bean burgers are a nice change to beef. The secret is freezing the patties before hitting the grill – they will stay together perfectly.
Ingredients
1 cup black beans, rinsed and drained
1/2 cup red pepper, diced
1 tablespoon minced garlic
1 teaspoon chili powder
1 tablespoon steakhouse seasoning (I used Dak's)
1 teaspoon mustard
1 teaspoon ketchup
1/4 cup panko bread crumbs
1 egg
1/2 cup oats
2 teaspoons mild giardiniera
Instructions
In a skillet, saute the red pepper and garlic for five minutes over medium heat. Set aside to cool.
In a large bowl, add the remaining ingredients and mix until combined. Add in the pepper/garlic mixture.
Divide patties into four.
Using a wide mouth mason jar, press the patties and place on a plate and freeze for 20 minutes before grilling.
Grill for five minutes a side.
Notes
On #teamgreen these are 3 points, on #teamblue these are 1 point and on #teampurple these are 0 points.
Nutrition Information:
Yield: 4
Serving Size: 1
Amount Per Serving:
Calories: 154Total Fat: 3gSaturated Fat: 1gTrans Fat: 0gUnsaturated Fat: 2gCholesterol: 47mgSodium: 1254mgCarbohydrates: 25gFiber: 6gSugar: 2gProtein: 8g
Can you make black bean burgers ahead of time?
Absolutely!  You could make these and store them in the refrigerator for up to a week, then freeze 20 minutes prior to grilling.  You could also freeze these burgers on a baking sheet for 30 minutes, then store them in a ziptop bag and you can pull out however many you need to cook.  The cooking time will be about 7 minutes a side.
If want another alternative to beef burgers, try out my turkey burger sliders.
Let me know if you try these!