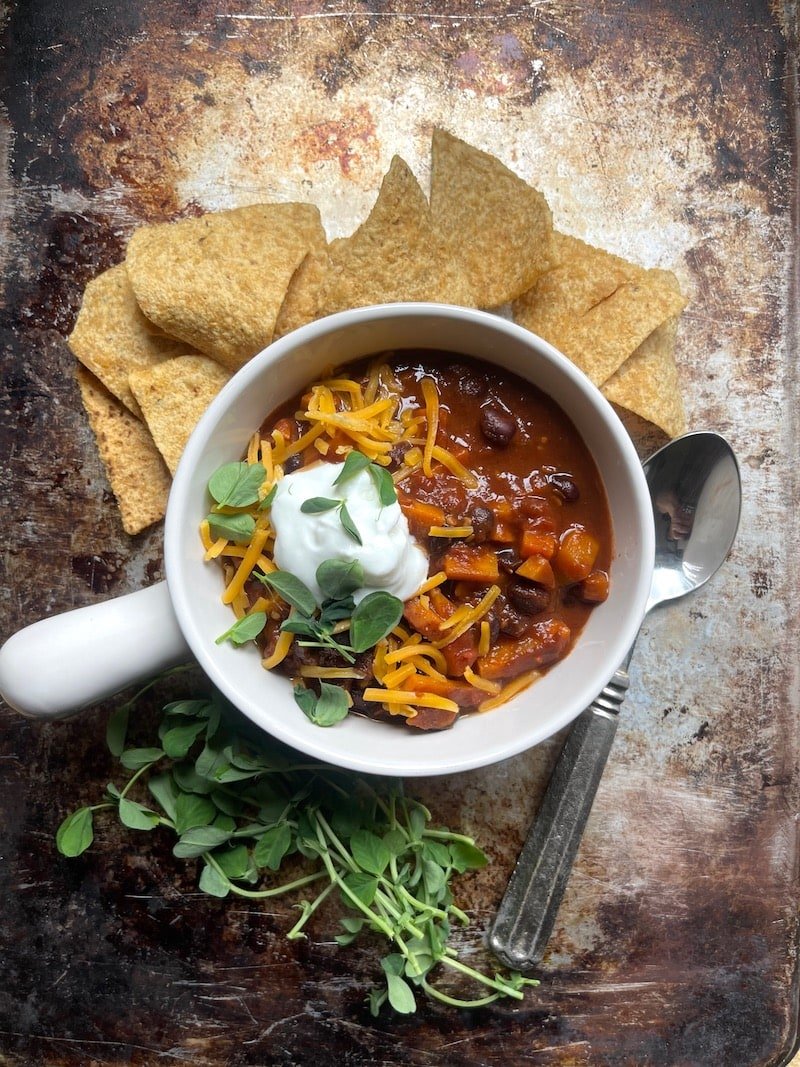 Use sweet potatoes as the meat!  This vegetarian black bean chili is so hearty and filling, I promise you won't miss the beef.
How do you make black bean chili from scratch?
You can make black bean chili from dried beans, but I prefer using canned beans.  My favorite grocery store Mariano's sells canned beans 2 cans for $1 every three weeks and I stock up.  If you don't like black beans, any canned beans would work: garbanzo beans, kidney beans, etc.
This chili tastes as if it's been simmering for hours.  The secret is the canned chipotle peppers – just one gives such a depth of flavor.  Beware though – some chipotle peppers are hotter than others.  I'd start with half a chili and add more after tasting.
Ingredients
avocado oil spray
2 medium sweet potatoes
4 tsp minced garlic
2 Tbsp chili powder
4 tsp ground cumin
1 tsp. ground chipotle pepper
1/4 tsp table salt
3 cup(s) water
28 oz canned black beans, rinsed
2 cup(s) canned tomatoes
2 tsp fresh lime juice
1 Tbsp cilantro, chopped
2 Tbsp canned chipotle peppers, (one whole pepper)
Instructions
Heat avocado oil in a large stock pot and bring to medium-high heat. Add diced sweet potato and cook, stirring often, about 4 minutes.Add garlic, chili powder, chipotle and salt and cook, stirring constantly, until fragrant, about 30 seconds.
Add water, bring to a simmer, cover, reduce heat to maintain a gentle simmer and cook until potato is tender, 10 to 12 minutes. Add canned tomatoes. (If you don't like chunks like I do, puree at this point). Add beans, tomatoes and lime juice and return to a simmer. Cook for an additional 45 minutes.
Garnish with nonfat Greek yogurt and shredded cheddar cheese
Notes
On #wwteampurple this is zero points, on #wwteamblue it's 3 points and on #wwteamgreen its 5 points.
Nutrition Information:
Yield: 4
Serving Size: 1
Amount Per Serving:
Calories: 307Total Fat: 6gSaturated Fat: 1gTrans Fat: 0gUnsaturated Fat: 4gCholesterol: 0mgSodium: 1069mgCarbohydrates: 53gFiber: 19gSugar: 7gProtein: 15g
There are so many chili recipes on my blog – check out it!
Best Buffalo Chicken Chili (this won $10,000 in a nationwide recipe contest in 2013)
No Cook Chili!  Just add pantry ingredients are heat in the microwave before eating.
Pumpkin Chicken Chili – this one screams fall!
Beef and Chipotle Chili – so good!
What is your favorite kind of chili?