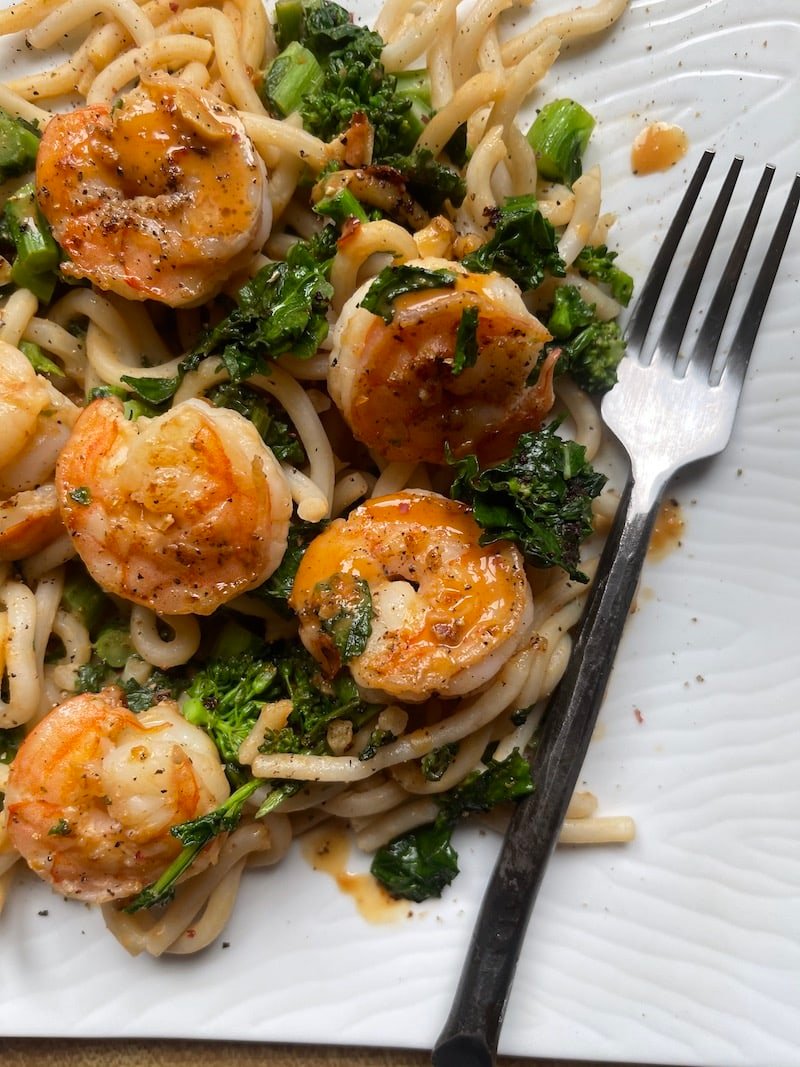 If you haven't tried broccoli rabe, I'd love for you to try this broccoli rabe and shrimp lo mein.  
The spicy peanut sauce is the perfect balance to the slight bitterness of the broccoli rabe.
My store sells already roasted garlic cloves, which makes them a bit milder.  If you are using fresh garlic, start with two cloves and add more to your taste.
What is broccoli rabe?
Broccoli rabe (also known as rapini) is actually not broccoli at all.  In fact it stems from the turnip green family, which is why it tends to have a bitter note to it.  If you blanch the broccoli rabe in boiling water for one minute, then add to an ice bath, it makes for a milder flavor. 
Still a bit on the bitter side, but not as much if you skip this step.  My grocery store sells it near the swiss chard and it sells for .99 cents a pound, making it a super economical veggie.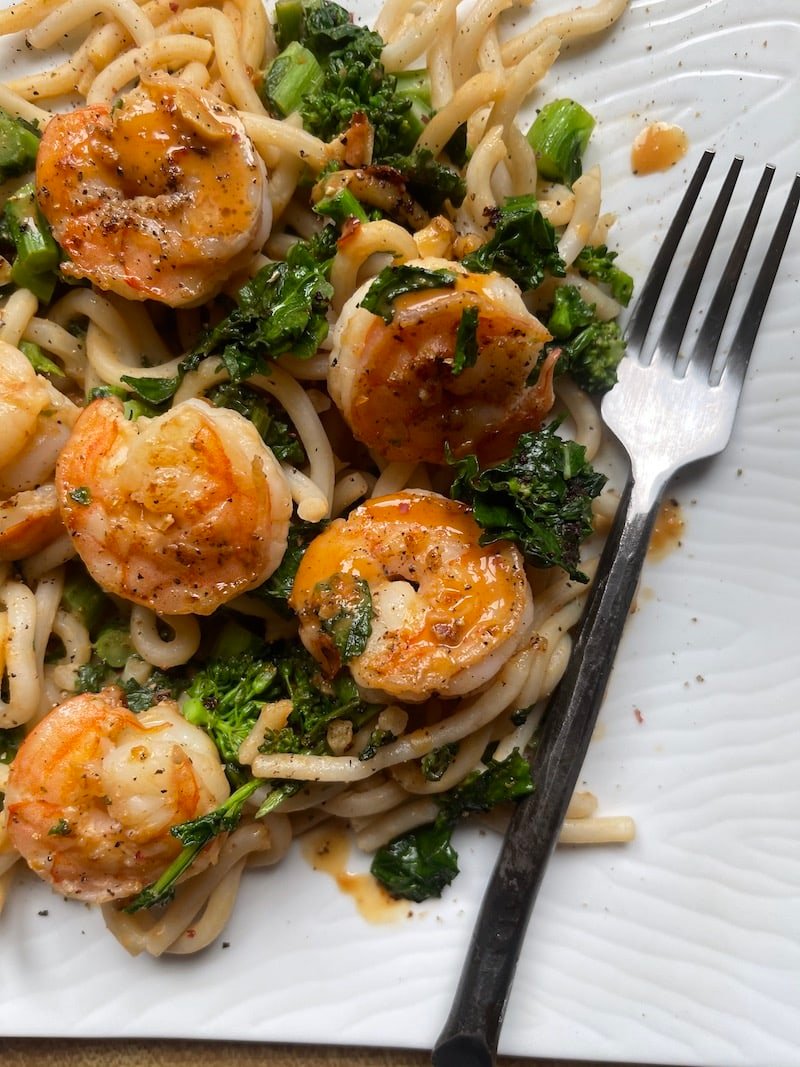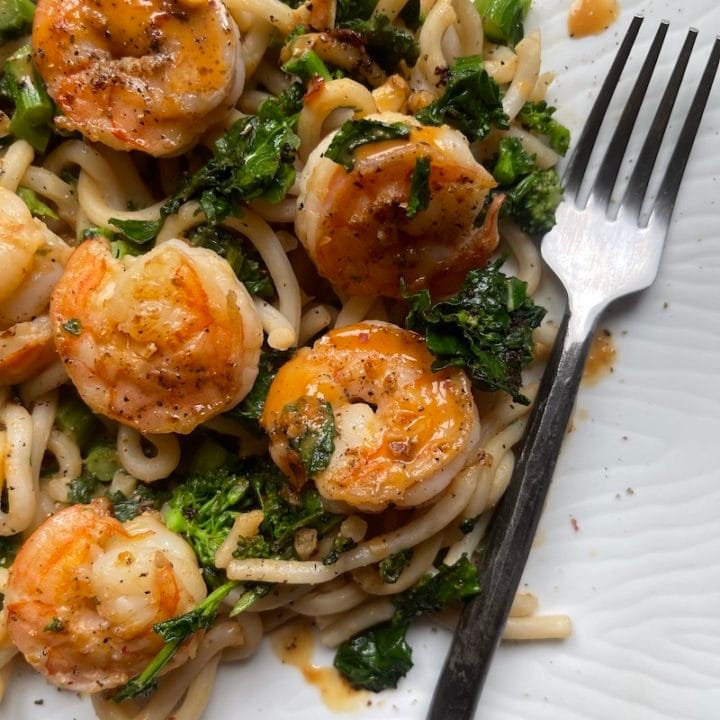 Broccoli Rabe and Shrimp Lo Mein
Yield:
1 serving
Prep Time:
5 minutes
Cook Time:
6 minutes
Total Time:
11 minutes
If you haven't tried broccoli rabe before, try this shrimp lo mein – the spicy peanut sauce balances so well with the slight bitterness of the broccoli rabe.
Ingredients
For the sauce:
2 tablespoons powdered peanut butter
2 tablespoons water
1 tablespoon soy sauce
1 teaspoon sambal oelek (thai chili sauce)
1 tablespoon rice wine vinegar
3-4 cloves roasted garlic, chopped
1 cup broccoli rabe, blanched and chopped
1 cup fresh lo mein noodles
4 ounces shrimp
Instructions
Mix all the sauce ingredients and set aside.
Heat a skillet with 4 cups water, bring to a boil and blanch the broccoli rabe for one minute, then immediately place in an ice bath to stop the cooking process.
Heat a wok with a teaspoon of grapeseed oil. Season shrimp with salt and pepper. Cook the shrimp for about 3-4 minutes (depending on the size) then add in the lo mein noodles. Squeeze the broccoli rabe with paper towels to get rid of any excess moisture. Chop and add to wok.
Add sauce and cook for an additional minute.
Enjoy!
Notes
On #teampurple and #teamblue, this plate is 9 points. On #teamgreen it is 10 points. Most of the points come from the lo mein noodles, which is 7 points on all plans. You could easily serve this with brown rice if you wanted to lower the points.
If you count calories or macros, this plate is 470 calories, 7.3 fat, 61 carbs, 8.2 fiber and 39 protein.
Most of the points and calories are from the lo mein noodles, but they are completely worth it to me.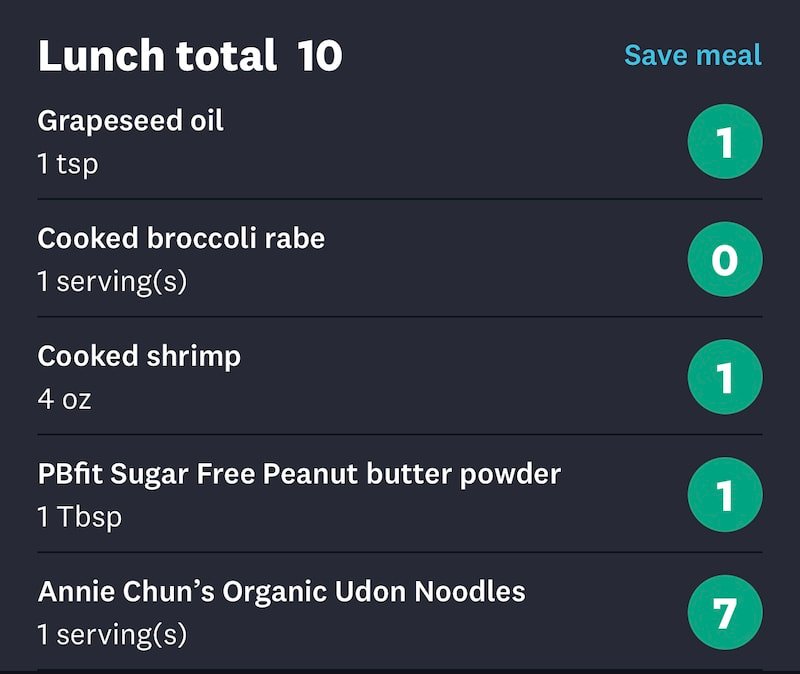 Should I count points and calories?
This is a question I get asked most often.  While I love that the point system steers you in the right direction on eating healthier foods, such as lower saturated fat, grams of sugar, etc.
My tablespoon of coffee creamer costs me 2 WW points but is only 35 calories.  What I found is that if I was way over my points, I would get upset with myself, tell myself that why am I even bothering when I can't even stay within my points.  I've been tracking both WW and the LoseIt app for 28 days, and while I have been consistently over my points, I have been at or under my daily calorie goal of 1,525.  
Let's take Easter dinner for example.  My plate was 44 points – or 14 points over my TOTAL for the day.  However, the meal was 870 calories.  And I was still able to have breakfast and a late dinner and still be under my calorie goals for the day.
I am on Day 6 of my 30 medium – I have daily goals for myself:
15 minutes of chores each day
45-60 minutes of movement
track food in both WW and LoseIt App
64-128 ounces of water
limit alcohol to 2x a week
no eating after dinner
So far it's been working!  Just small daily goals that I like to check off at the end of each day.  I've only eaten after dinner once and that was because my blood sugar was low, but I ate a banana so I am not worried about that.
If you love shrimp, check out my super simple and delicious shrimp and grits.