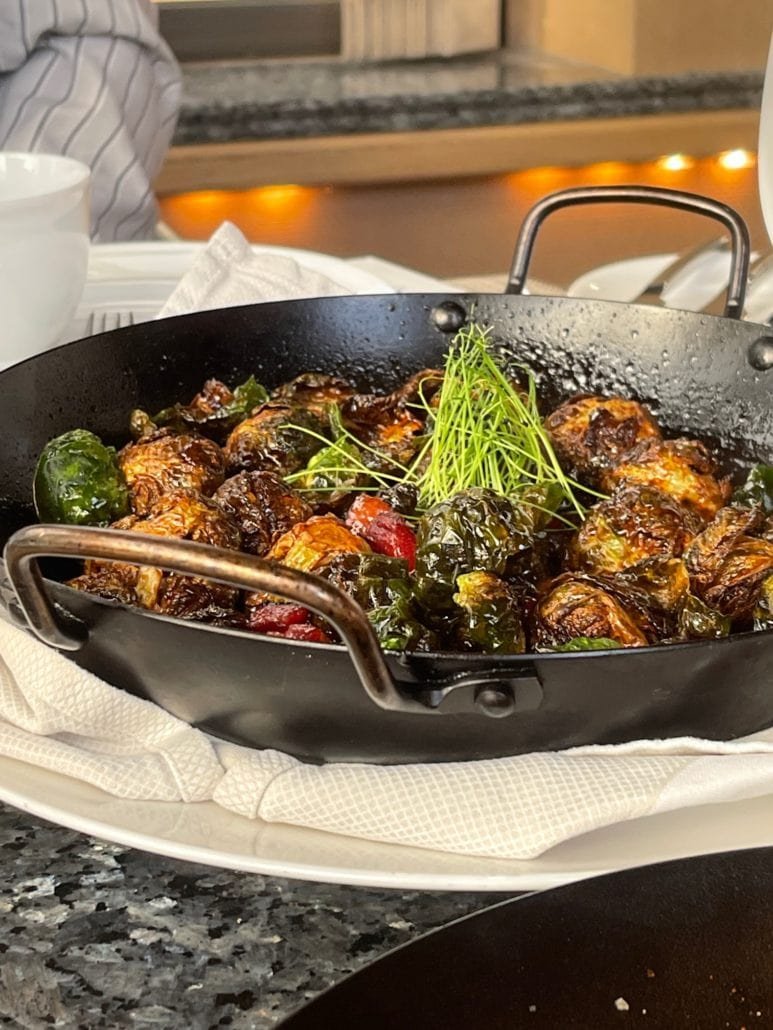 Brussels Sprouts with Crispy Pancetta and Apple Cider Gastrique will be the hit on your holiday table!
Last weekend I had the privilege to have a delicious dinner with a new friend in . . . IDAHO!
One of my instagram followers husband reached out to me several weeks ago and invited me to visit the weekend of his wife's birthday.
Without hesitation I said yes!
Best decision evah! It was so fun. On Saturday night we had dinner at Beverly's right on the lake. One of the appetizers we got was the crispy brussel sprouts with pork belly and apple cider gastrique.
I told Angie that would try to recreate this dish at home. First, they deep fried their brussels sprouts. Most people don't have a deep fryer, so I went the oven route. Second, pork belly isn't that easy to find, so I substituted pancetta.
What is pancetta?
Pancetta is seasoned, salt-cured meat made from pork belly. It can be found at most grocery stores in the deli. I had the store slice 1/2 inch thick slices so that I could dice it when I got home.
What's the best way to cook brussels sprouts?
There are several ways that you can cook brussels sprouts. To make a single serving I usually use my air fryer at 400 degrees for 10 minutes, or until they are fork tender and the leaves are crispy. When oven roasting the brussels sprouts, I always preheat my baking sheet while the oven gets to 400 degrees. That way they start to cook and caramelize immediately.
How do you make a gastrique?
A gastrique is a sweet and sour sauce basically. Most recipes call for lots of sugar or honey. I chose sugar free pancake syrup to keep the carbohydrates low on this dish. You just want to have equal parts sweet to equal parts vinegar. Once reduced, it's a delicious dressing. You can add any seasonings you like – I chose peppercorn and lemon zest.
Brussels Sprouts with Crispy Pancetta and Apple Cider Gastrique
This recipe is a copycat of a dish I had at Beverly's restaurant in Idaho. It's slightly sweet, slightly spicy, slightly salty and absolutely delicious!
Ingredients
For the gastrique:
1/4 cup light apple juice
1/4 cup sugar free pancake syrup
1/2 cup apple cider vinegar
5 peppercorns
3 cloves garlic, sliced in half
1 tablespoon lemon zest
Pinch of crushed red pepper
For the brussels sprouts:
1 pound brussels sprouts, stems removed and sliced in half
1 tablespoon avocado oil (or grapeseed oil)
¼ teaspoon salt
¼ teaspoon pepper
¼ pound pancetta, diced
2 tablespoons cilantro, chopped
¼ cup fried shallots (you could also use French Fried Onions)
2 tablespoons shaved Parmesan cheese
Instructions
For the gastrique:
1. Mix all the above together and place in a shallow skillet or small pan. Simmer over medium heat until it starts to thicken slightly, about 10 minutes. Strain and drizzle some or all the gastrique over the cooked brussels sprouts.
For the brussels sprouts:
1. Heat oven to 400 degrees with an empty baking sheet. The brussels sprouts will start to cook when they hit the hot pan. Toss the sliced sprouts with avocado oil, salt and pepper and cook, cut side down for 15-18 minutes. Flip and cook an additional 3-5 minutes.
2. While the sprouts cook, cook the diced pancetta on low heat for 20 minutes, or until crispy. Drain on a paper towel.
3. Once the brussels sprouts finish cooking, sprinkle the crispy pancetta over the pan, sprinkle with the Parmesan cheese and drizzle the gastrique over the top.
Let me know if you make these! These will be perfect on your Thanksgiving table. Looking for another side dish? Check out my zucchini gratin.
The post Brussels Sprouts with Crispy Pancetta and Apple Cider Gastrique appeared first on My Bizzy Kitchen.