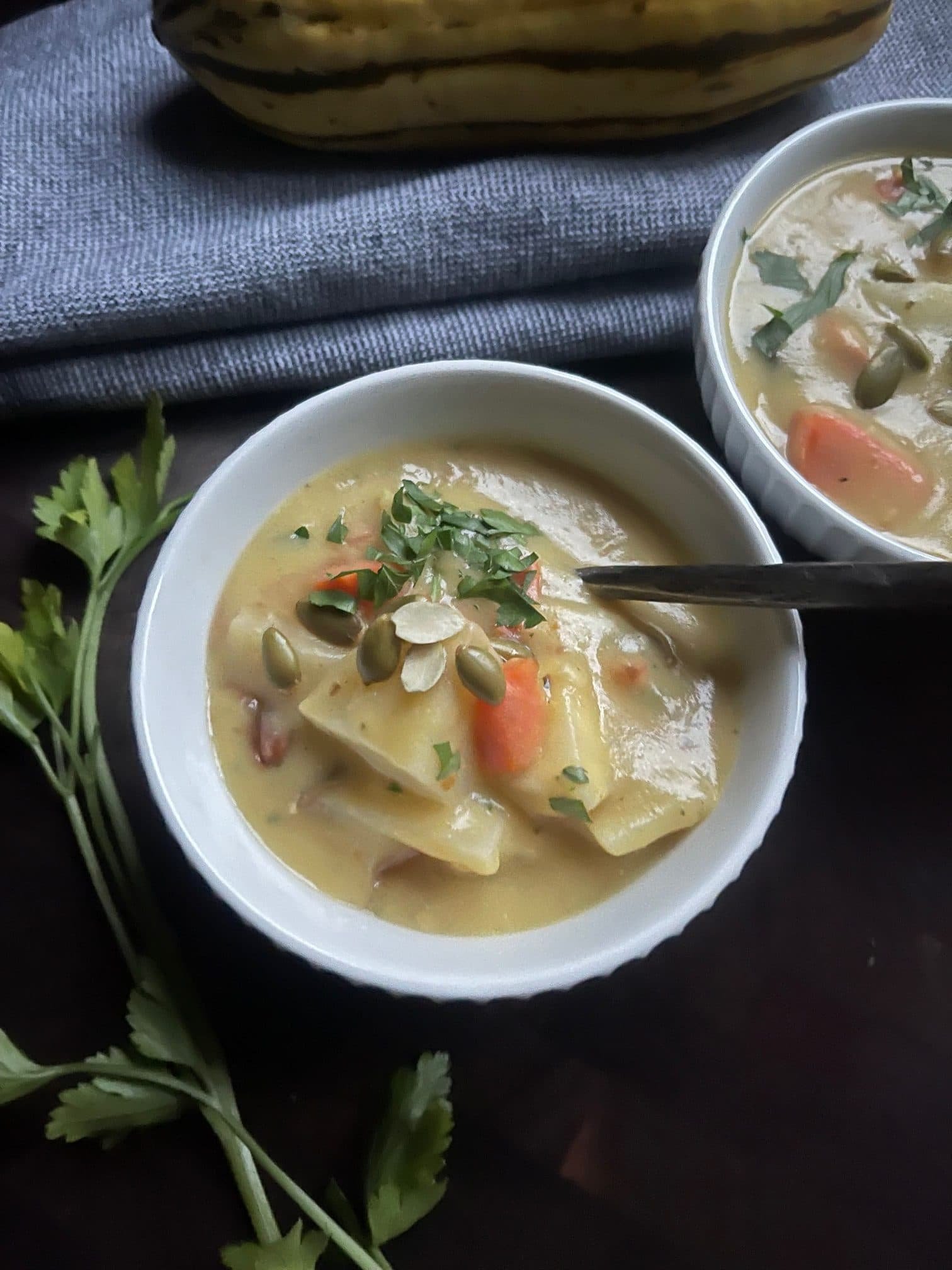 Can't stop, won't stop with the delicata squash recipes!  This creamy delicata squash soup is so creamy and delicious – you'll love it!
How do you make delicata squash creamy?
My air fryer did most of the work.  After it cooked for 20 minutes, I was easily able to cut the squash and scoop the seeds out.  Then I added the broth and the squash (skin and all!) to the blender and blended for 3-4 minutes until completely smooth.  This is what makes the soup so creamy.
Can you eat the skin on delicata squash?
Absolutely, which is probably why this is my favorite squash.  Have you ever tried to peel a butternut squash?  It's really hard.  (that's what she said!)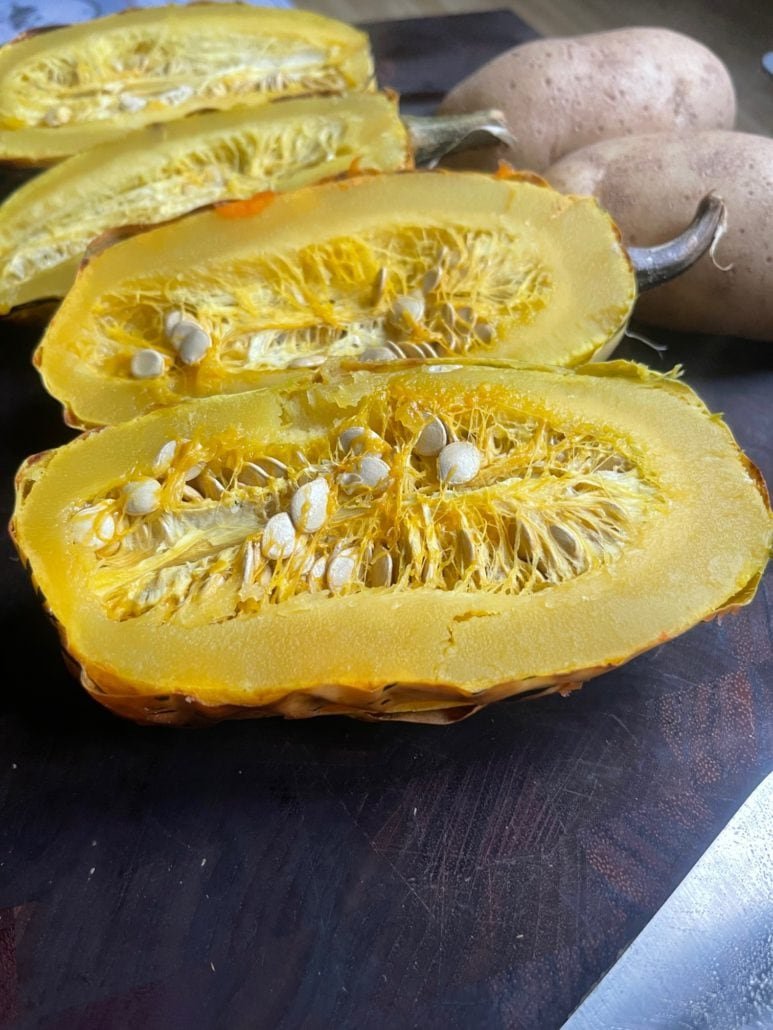 What is giardiniera?
I love using giardiniera when I use sweet vegetables like delicata squash, butternut squash and acorn squash.  You should be able to find it in the pickle aisle at most grocery stores, but it's a Chicago condiment staple.  It's an Italian relish of pickled vegetables in vinegar or oil.  There are some brands that eliminate the oil, but I use so little I like the oil version better.
Ingredients
1 teaspoon olive oil
3 medium carrots, peeled and chopped
3 celery stalks, with leaves if possible, choppped
1/4 cup all-purpose flour
2 cups vegetable stock
2 cups unsweetened almond milk
1/2 pound potatoes, peeled and diced
1 pound delicata squash (about 2 small squashes)
1 tablespoon giardiniera
1 teaspoon dried rosemary
1/2 teaspoon salt
1 teaspoon pepper (I like a lot, so add less if you like)
Instructions
Cook the delicata squash in the air fryer or oven for 20 minutes at 360. Let cool slightly. Slice and remove seeds. Add to a blender. Add the 2 cups broth to the blender and process until smooth.
In a stock pot, add the olive oil and add the carrots and celery. Cook for 5 minutes. Add the flour and stir until the veggies are coated. Add 1/4 cup of the unsweetened almond milk and stir until thickened, about two minutes.
Add remaining almond milk, the pureed delicata squash, the potatoes, giardiniera, rosemary, salt and pepper.
Cover and cook 15 minutes, or until the potatoes are fork tender.
Garnish with pepitas and chopped parsley (optional).
Nutrition Information:
Yield: 4
Serving Size: 1
Amount Per Serving:
Calories: 174Total Fat: 3gSaturated Fat: 0gTrans Fat: 0gUnsaturated Fat: 2gCholesterol: 0mgSodium: 650mgCarbohydrates: 34gFiber: 7gSugar: 7gProtein: 5g
In case you missed it, I have a round up of more delicata squash recipes.  
Do you like delicata squash??