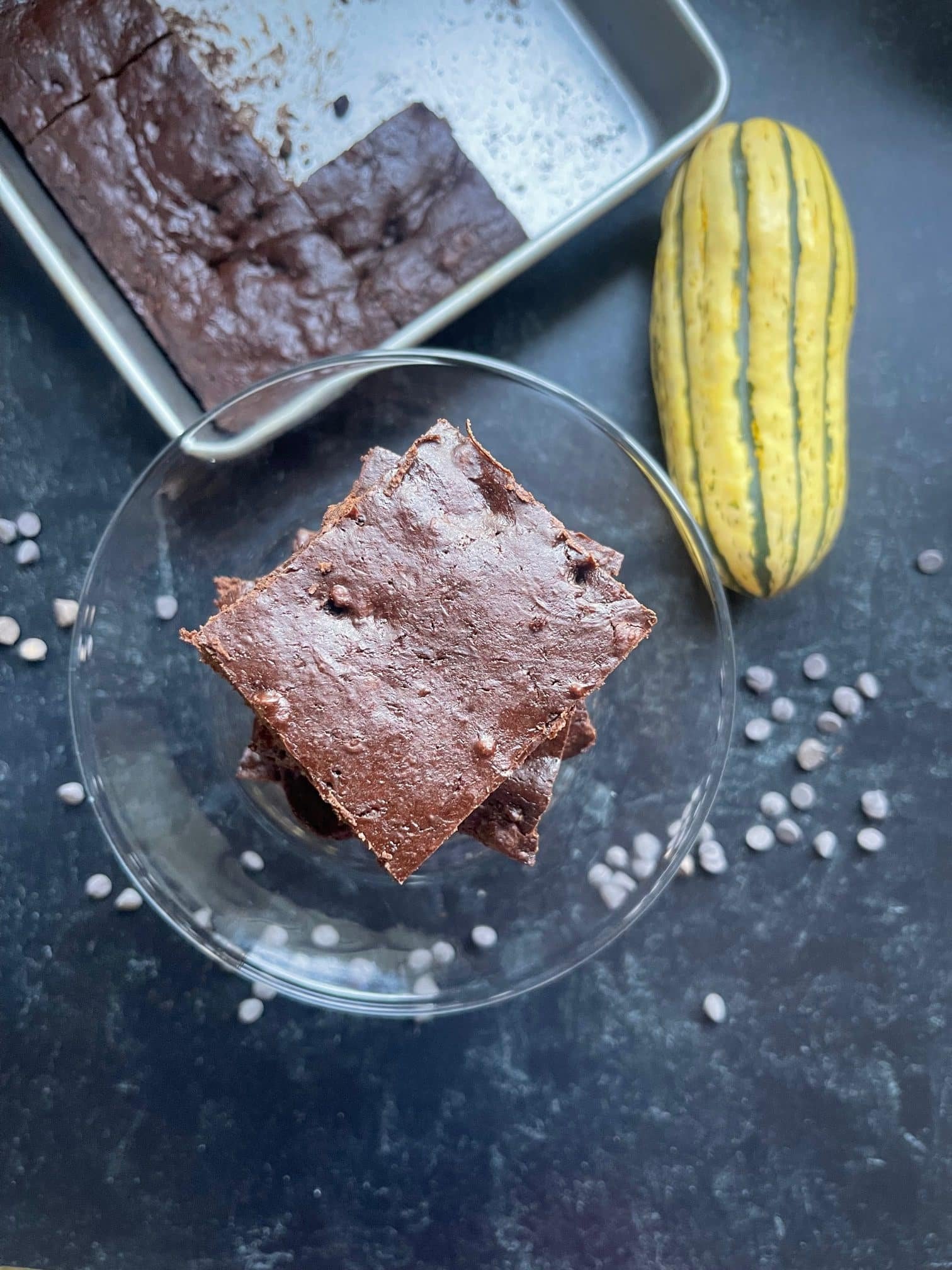 Yep!  Another delicata squash recipe!  Delicata Squash Brownies – a great way to sneak in veggies in your diet.
You all know that I have a love affair with delicata squash.  I try to tell the world what a great vegetable it is, and well, I mostly get this 🤮
But I will prevail and make enough delicata squash recipes where you won't be able to tell that it's in there.  And these delicata squash brownies fit the bill.  So good!
Ingredients You Will Need
self-rising flour (regular flour is fine too – it's just what I had on hand
unsweetened cocoa powder
baking powder
salt
cinnamon
sugar
Truvia brown sugar 
Lily's dark chocolate chips (I use the no sugar added chocolate chips)
eggs
delicata squash!
vanilla oat milk (but any milk would work)
What does delicata squash taste like?  
Of all the winter squashes, I think delicata is the most delicata – get that?!  Ha!  Seriously it's very mild, not as bold as acorn and butternut squash, and I love that you don't have to peel the skin – it's completely edible!  While I thought that I would leave the skin on for this recipe, I decided to scoop it out of the skin.  Simply cook the delicata squash in the oven or air fryer whole for 20 minutes at 400.  Let cool and continue with the recipe.
How to make brownies gluten free?
My go to gluten free flour is Bob's Red Mill 1 to 1 baking – but it has to be the one that uses white rice flour and has xantham gum as an ingredient.  You can find it at most grocery stores if not where the regular flour is, sometimes it's a separate "healthy" flours on an end cap.
How to store brownies?
Simply place in a ziptop bag for up to 7 days. If you wanted to freeze them, place the cut brownies on a cookie sheet individually and freeze for 30 minutes.  Then place in a ziptop bag and you can remove one at a time.  You can let it defrost on the counter, or you can reheat in the air fryer at 300 degrees for 5 minutes.
Ingredients
1 cup self-rising flour
1/2 cup unsweetened cocoa powder
1 teaspoon baking powder
1/2 teaspoon salt
1 teaspoon cinnamon
1/4 cup sugar
1/4 cup Truvia brown sugar blend
1/2 cup Lily's chocolate chips
2 eggs
1/2 cup cooked delicata squash
1/2 cup vanilla oat milk
Instructions
Heat oven to 350. In a large bowl, mix the flour, cocoa powder, baking powder, salt, cinnamon, sugar and brown sugar. Mix well. Toss in the chocolate chips.
In a smaller bowl, mix the eggs and squash and whisk. Add to dry mixture and mix just until combined.
Spray an 8×8 pan with avocado oil spray. Add batter, smooth the top and bake for 20 minutes.
Let cool completely before slicing into 9 brownies.
Notes
On all WW plans, each brownie is 4 points. If you count calories or macros, each brownie is 140 calories, 3.4 fat, 26 carbs, 3 fiber and 6 protein.
If you love delicata squash, check out my delicata squash recipe round up here.
Do you like delicata squash?
This recipe was adapted from Good Eats Blog – thanks for the inspiration Jessica!