Easy Chicken and Sausage Gumbo Recipe with Healthy Gumbo Roux!
Easy Chicken and Sausage Gumbo is a Cajun healthy gumbo recipe favorite. If you're looking for a gumbo recipe healthier, you are in the right place. When you think of Louisiana cuisine, gumbo comes to mind and especially in cold weather. This go-to favorite recipe is in Holly Clegg's Gulf Coast Favorites cookbook. The secret to a healthy gumbo is in the healthy roux! Diabetic chicken gumbo recipes are hard to find.  Best of all, when you taste this easy gumbo recipe, you would never know this is also a diabetic gumbo recipe!
No Time Consuming Roux for this Outstanding Healthy Gumbo
Don't think this gumbo will have you standing over the stove for hours!  The best part about this healthy roux is you can brown the flour ahead of time.  If you've ever made gumbo, the roux is what is time consuming.  With the roux done and if you buy pre-chopped seasoning, you can whip this healthy gumbo up for dinner.
Easy Chicken and Sausage Gumbo
Servings
14
1-cup servings



1/2

cup





all-purpose flour




1

lb





reduced-fat sausage

cut in 1/4-inch pieces




2

lb





boneless, skinless chicken breasts

cut in pieces




1





onion

chopped




1

tsp





garlic

minced




1





green bell pepper

cored and chopped




2





stalks celery

chopped




8

cup





fat-free chicken broth




1

16-ounce package





frozen cut okra or fresh cut okra




1

tsp





dried thyme leaves




1/4

tsp





cayenne




1

bunch





green onions

chopped
Place flour on baking sheet and bake 20 minutes.  Stir every 7–10 minutes or until dark nutty brown color. Set aside.

In large nonstick pot coated with nonstick cooking spray, stir-fry sausage over medium heat and cook until crispy brown.  Set aside and remove any excess grease.  Recoat skillet with nonstick cooking spray.

Add chicken and cook, stirring until starting to brown and then add onion, garlic, green pepper, and celery, cooking until tender. Stir in browned flour, stir continuously.

Gradually add chicken broth, okra, thyme, cayenne, and season to taste.  Bring to boil, lower heat and simmer 30 minutes or until chicken is tender. Add sausage and green onions cooking 5 more minutes.
Per Serving: Calories 160, Calories from fat (%) 11, Fat (g) 2, Saturated Fat (g) 1, Cholesterol (mg) 49, Sodium (mg) 550, Carbohydrate (g) 12, Dietary Fiber (g) 2, Sugars (g) 4, Protein (g) 22, Diabetic Exchanges: 1 carbohydrate, 3 very lean meat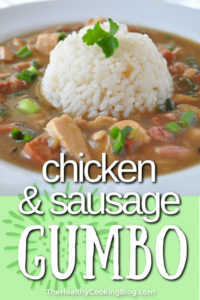 Women's Health Magazine Features Holly's Gumbo Recipe In Top Healthy and Delicious Soups for Weight Loss!
This is such a popular gumbo recipe because it's easy to make wherever you live and also healthy.  It is even a diabetic gumbo recipe making this soup the perfect choice for people who love Cajun recipes.  Chicken and sausage gumbo recipe is even featured in Women's Heath Magazine! Gulf Coast Favorites cookbook gives you the opportunity to enjoy all your favorite Cajun recipes but made trim and terrific!
Try Using Brown Rice with Your Healthy Gumbo
Chicken and Sausage Gumbo – Secret In Healthy Roux Plus Diabetic Chicken Gumbo!
The secret to a good gumbo is the roux and Holly's secret is to use browned flour for a healthy roux.  Not only is this roux a time saver, but you get that rich nutty flavor without all the fat.  The gumbo tastes great and the roux bakes easily in the oven. You can make this healthy gumbo anywhere. Would you believe this delicious gumbo is also a diabetic chicken gumbo recipe?  Also, gumbo freezes well and did you know you can also freeze extra rice?
Cook with a Wooden Spoon
Have You Ever Used Silicon Pot Holders?

Enjoy Louisiana Recipes Wherever You Live
SHOP Holly Clegg's cookbooks to enjoy Louisiana recipes wherever you live! Remember, this book includes everyday ingredients to recreate your favorite healthy Cajun recipes easily. BBQ Shrimp recipe is the best New Orleans BBQ Shrimp recipe and the fresh seafood recipes will win you over instantly.  No more dinner decisions when you can flip through this book with 30 minute easy healthy recipes.
Get All of Holly's Healthy Easy Cookbooks
The post Easy Chicken and Sausage Gumbo – Secret to Simple Healthy Roux for Gumbo appeared first on The Healthy Cooking Blog.