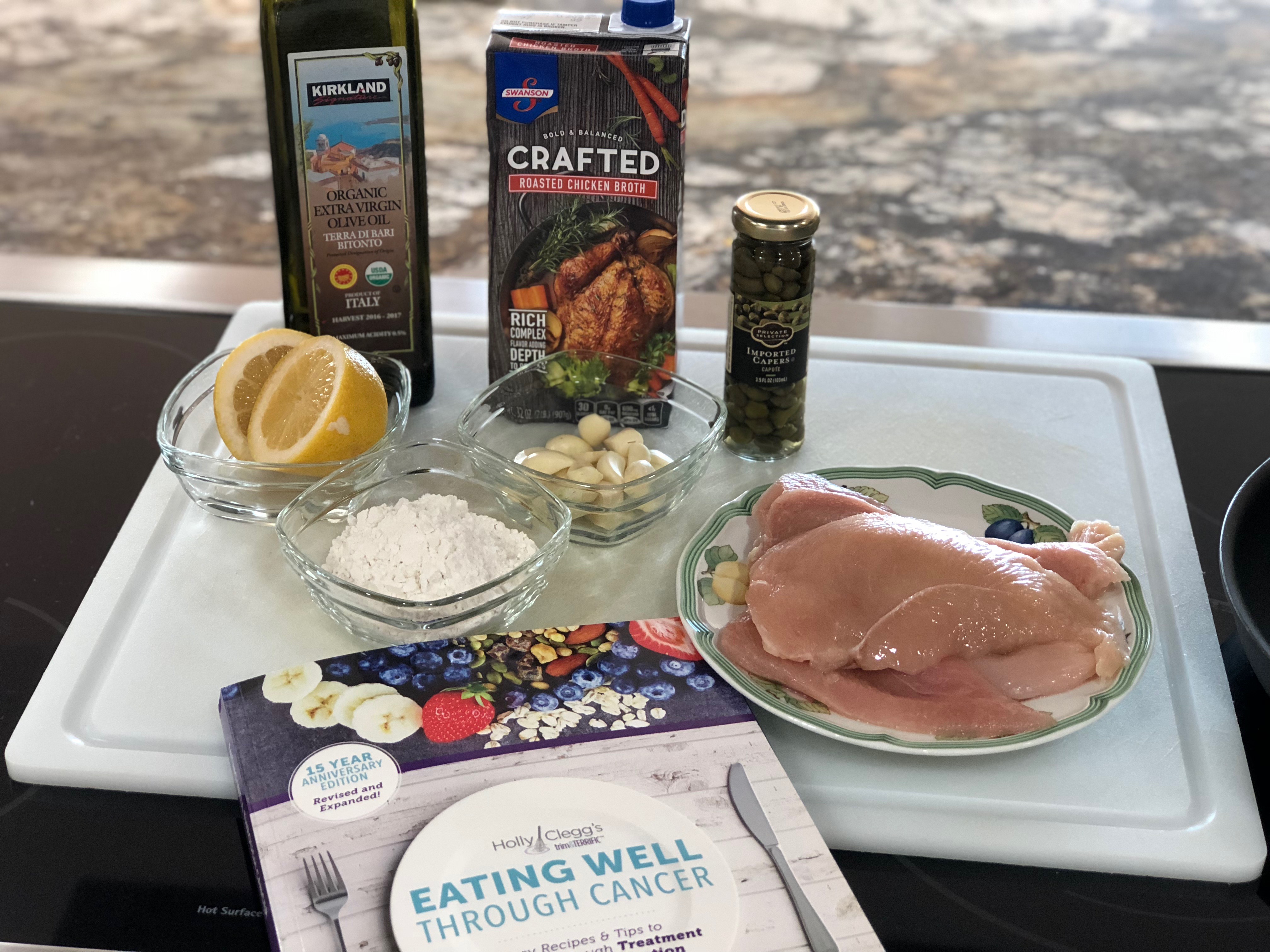 Wait Until You Try My Easy Lemon Chicken Recipe
Enjoy this blog written by Holly during her chemo treatment in 2018:
I promise this is the best Lemon Chicken recipe ever!  How do I know?  Well, I am in chemo now and looked for chicken recipes for chemo patients in my Eating Well Through Cancer Cookbook.  I found my easy Lemon Chicken Recipe and it was perfect for a quick and light dinner.  So, we made the Chicken with Lemon Caper Sauce and everyone raved about it.  Honestly, I had not made that lemon chicken recipe in years and I forgot how simple and delicious it was.  Also, light and a diabetic lemon chicken recipe that paired so well with angel hair pasta. Dinner is done!
Easy Lemon Chicken Recipe Whips Up For Quick Dinner
As I said, one of the things that was important to me when I was writing my cancer cookbook was to include recipes with everyday ingredients. Whether you don't feel well or you just don't have time to cook, you'll find simple recipes like this healthy lemon chicken recipe.  Best of all, everyone raves about this recipe and I wish it was in one of my other cookbooks too!  Eating Well Through Cancer has everyday recipes with pantry friendly ingredients so you can whip up a quick meal. I have so many simple recipes for cancer patients.
Best Lemon Chicken Recipe Ever
I told my daughter Haley about the Chicken with Lemon Caper Sauce so she made it for dinner for her husband.  She called and said, "Why haven't you told me about this recipe!"  Her husband said, this was the best lemon chicken recipe ever! I am staying most of the time with my sister and her husband in Houston during my chemo treatments at MD Anderson and all they wanted me to make was this easy lemon chicken recipe. Of course, my husband is also obsessed with this healthy lemon chicken recipe and I made it often.
Chicken with Lemon Caper Sauce
Think of this as a delicious smothered chicken with fancy flair. Serve with angel hair pasta or rice tossed with olive oil and garlic.
Servings
6
4 (ounce) servings



1/3

cup





all-purpose flour






salt and pepper to taste




6





boneless, skinless chicken breasts

pounded thin, if desired, 4-5-ounce




2

tablespoons





olive oil




1

teaspoon





minced garlic




1 1/2

cups





low-sodium fat-free chicken broth




1/2

cup





lemon juice




1/2

cup





wine or low-sodium fat-free chicken broth

fat-free chicken broth




1/4

cup





capers

drained
In plastic bag, combine flour and season to taste. Add chicken to coat.

In large nonstick skillet coated with nonstick cooking spray, heat oil. And cook chicken breasts over medium high heat, until lightly brown, about 3–4 minutes each side. Remove chicken to plate.

To pan, add garlic, broth, lemon juice, wine and capers. Bring to boil, scrapping pan for loose bits. Return chicken to pan, reduce heat, cover, and simmer until chicken is tender, about 10-15 minutes.
Nutritional information per serving: Calories 209 kcal, Calories from Fat 34%, Fat 8 g, Saturated Fat 1 g, Cholesterol 73 mg, Sodium 222 mg, Carbohydrates 7 g, Dietary Fiber 0 g, Total Sugars 1 g, Protein 25 g, Dietary Exchanges: 1/2 starch, 3 lean meat
Terrific Tip: Look for thin chicken breasts in the store. To pound chicken, use meat pounder or something hard, cover chicken with wax paper and pound to flatten-tenderizes chicken.
Nutritional Nugget: This protein rich meal helps to ensure growth, to repair body tissue, and to maintain a healthy immune system.
Chicken with Lemon Caper Sauce Tops Chicken Recipes For Chemo Patients
I never thought I would be using my cancer cookbook but I am. There's a chapter called Day of Chemotherapy.  As I've told people for years during chemo you want light food and I included in the book chicken recipes for chemo patients (that's me now).
Just like this easy lemon chicken recipe, Eating Well Through Cancer includes easy healthy recipes for cancer patients, caregivers and the family. Everyone will eat and enjoy any food
Can you eat delicious food that is also good for you? Of course! Diabetic friendly meals definitely do not have to be boring and tasteless. This Diabetic Meal Plan & Recipes Downloadable is your easy go-to guide to meal planning diabetic meals the whole family will love. This comprehensive guide includes 13 weekly recipes, from dinners, lunch, snacks and dessert.
Diabetic Lemon Chicken Recipe is My Best Lemon Chicken Recipe!
This diabetic lemon chicken recipe is a good choice for everyone because a diabetic diet is the healthiest way to eat.  Not only does this make a quick dinner, but it also is a great source of protein which I know I need going through chemo.  I understand nutrition and the chicken recipe for chemo patients in the book are nutritious but also delicious!  During chemo I needed a light meal but I still had my appetite so I wanted good food! This easy lemon chicken recipe we all adored and I tolerated it so well.  No leftovers!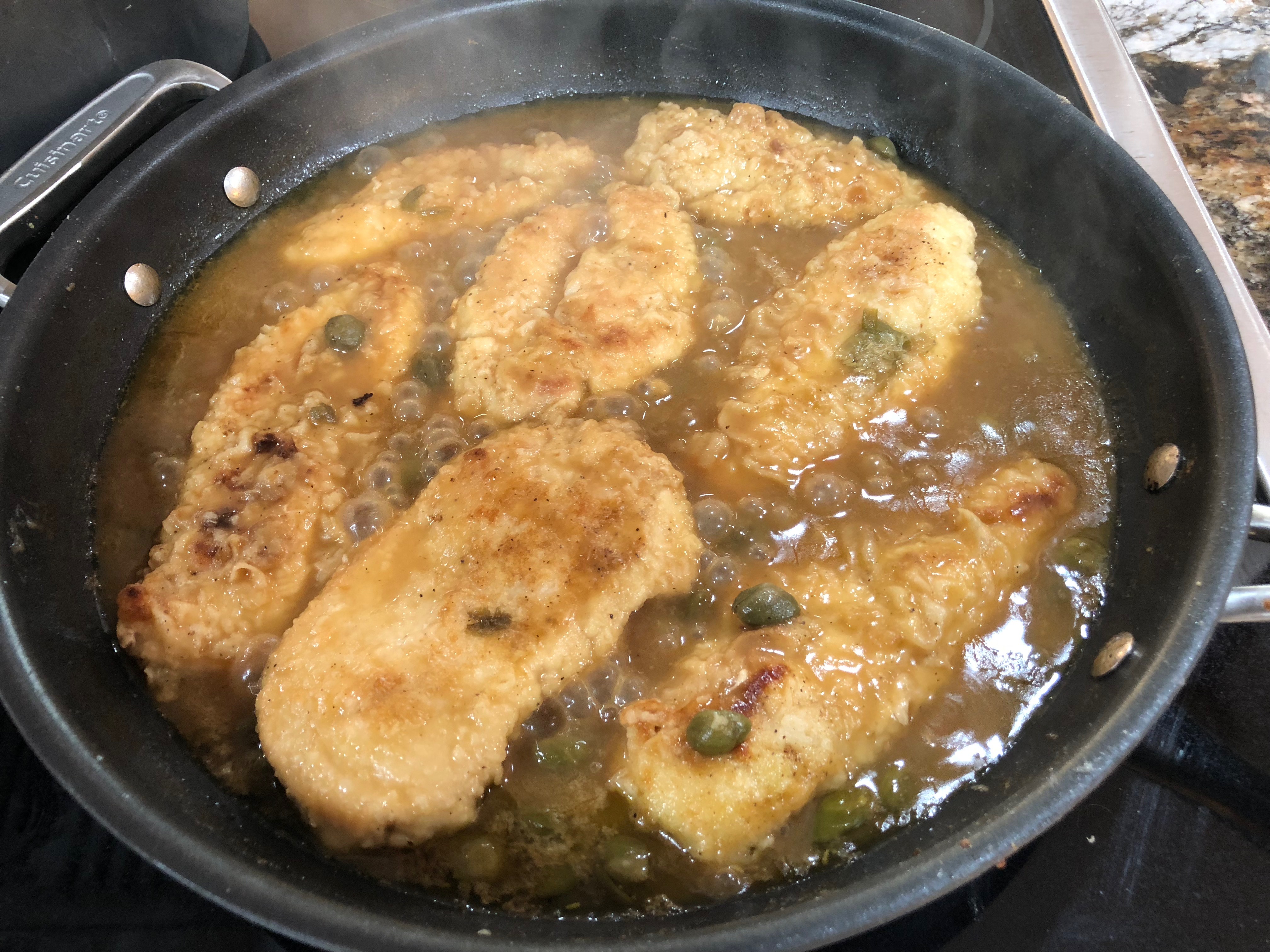 Lemon Chicken With Capers Flavorful and Fast
I can't wait for you to try this delicious easy chicken dinner recipe and it has quickly become our family favorite.  I do recommend getting the thin chicken breasts.  We think they taste better and they also cook faster which is a plus.  The recipe is somewhat like a chicken piccata recipe with the lemon but it is a healthier version packed with all the flavor. Another favorite recipe is my Simple Baked Chicken which is easy to eat and fast to prepare.
Fresh Lemon Is Great
Any time you can use fresh lemons, it is always better but I keep lemon juice in my refrigerator.  I believe in convenience and I have made this recipe both with fresh or bottled lemon juice and it is so good. If you are using fresh lemons, you must have a quick lemon juicer because you won't believe how easy it makes it. A good gadget simplifies cooking! Try my Lemon Feta Chicken recipe.

Get All Holly's Healthy Easy Cookbooks
The post Easy Lemon Chicken Recipe: Popular Diabetic Lemon Chicken with Capers for Chemo Patients appeared first on The Healthy Cooking Blog.