Am I the only one that can never cook the right amount of pasta without having five cups leftover?  That's how this goat cheese pasta with meatballs came about.
I am the leftover queen!  A quick search in my fridge and I found an unopened goat cheese.  Then I pulled out the leftover pasta, some flour, and almond milk.
One way I save on groceries each week is only buying exactly what I need that week.  So I purchased one single Italian sausage link at Mariano's for $1.26 and only used half of it.  The rest will go on pizza later this week.
Ingredients
1 cup cooked pasta (I used leftover pasta)
1 tablespoon I Can't Believe It's Not Butter
2 cloves garlic, sliced thin
1 tablespoon flour
1/2 cup unsweetened almond milk
1 teaspoon dried parsley
1 ounce goat cheese
2 ounces of Italian sausage, removed from casing
Instructions
Heat skillet with avocado oil spray. Form tiny meatballs with the Italian sausage, about the size of marbles, and cook for 3-4 minutes. Set aside.
In the same pan, melt the butter. Add the garlic and cook for one minute. Add the flour and cook for one minute. Add in the almond milk and cook for 3-4 minutes, until the sauce thickens, then add in the goat cheese, parsley, salt and pepper. Cook for one minute, coating the pasta, then add back in the meatballs and cook for one more minute.
Garnish with fresh parsley if you are feeling fancy.
Nutrition Information:
Yield: 1
Serving Size: 1
Amount Per Serving:
Calories: 567Total Fat: 31gSaturated Fat: 11gTrans Fat: 1gUnsaturated Fat: 20gCholesterol: 46mgSodium: 647mgCarbohydrates: 47gFiber: 3gSugar: 2gProtein: 25g
This goat cheese pasta with meatballs tastes like it should be 2000 calories.  It's creamy, rich and I love how every strand of pasta is coated in the goat cheese sauce.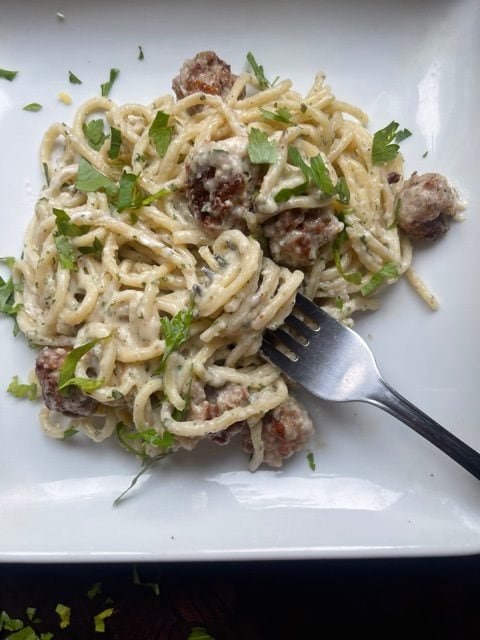 What is a good substitute cheese if I don't like goat cheese?
You would want a good melty cheese, like white cheddar, gruyere or swiss cheese.  Cream cheese could even be substituted in a pinch!
Let me know if you make this – totally worth the points and calories to me!