My Mom loves custard, so I plan on making these mini fruit tarts for Mother's Day.
The instructions may seem long in this recipe, but I tried to explain how to make a custard.  You need to be patient so you don't end up making scrambled eggs!
Can you make mini fruit tarts in advance?
Yep!  That's the best part about this dessert.  You can make the tarts and custard separately.  First, keep the tarts in an airtight container.  Secondly, the custard in the refrigerator, covered, so it doesn't form a skin on top.  Finally, these desserts are best eaten within 30 minutes of putting them together, otherwise the custard gets loose – still delicious but not as pretty.
These mini tart pans are so cute and cheap!  You can find them on Amazon or at Bed Bath and Beyond – I got these a few years ago and they were .49 cents each.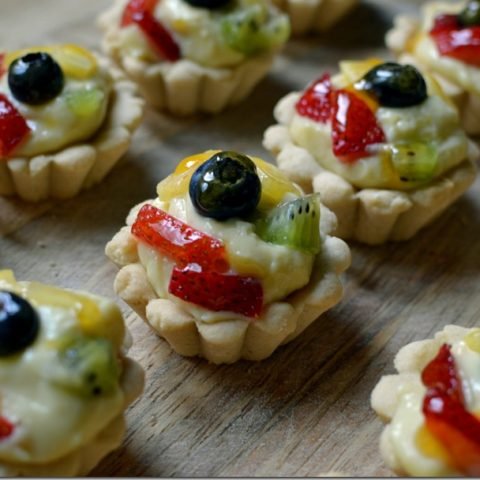 Mini Fruit Tarts
Yield:
24
Prep Time:
10 minutes
Cook Time:
20 minutes
Total Time:
30 minutes
These mini fruit tarts will be the hit at your next get together. Best part is that it can be made ahead and put together in minutes right before serving.
Ingredients
For the tart
1 egg
1/2 cup sugar
3 tablespoons mayonnaise
5 tablespoons butter (room temp)
3 tablespoons cornstarch
1/2 teaspoon baking soda
1/4 teaspoon lemon juice
2 cups flour
For the custard
2 cups milk (I used whole milk)
6 egg yolks
1/2 cup sugar
4 tablespoons flour
2 teaspoons extract
For the Glaze
1/4 cup apricot preserves
1-2 tablespoons water
1 cup mixed berries of choice
Instructions
Instructions

Using a hand mixer, beat the egg, sugar, and mayonnaise in a large bowl.

Add in the butter, cornstarch, and baking soda. Squeeze the lemon juice over the baking soda so it starts to foam. Blend with a hand mixer until combined.

Add the flour to the egg and butter mixture and blend on low speed – you may need to use your hands at this point until it comes together. Roll in a ball, cover with plastic and chill for 1 hour.

Meanwhile, beat the egg yolks with the sugar until just combined. Add in the flour and mix.

In a pan, put the 2 cups milk and bring to a slight boil – basically until you see bubbles start to form around the edges. VERY SLOWLY, and I mean VERY SLOWLY drizzle the milk mixture into the egg yolk/sugar mixture so that the hot milk doesn't cook the eggs.

Once combined, add that mixture back into the pan and over low heat, stir until it's reached a thick and creamy consistency. This took me about 20 minutes of constant stirring, so have a magazine or phone next to you!

Once cooled, put in a bowl, and press plastic wrap on it so that it doesn't form a skin on the top and chill in the fridge until ready to assemble.

I ended up using only 1 tablespoon of the dough for each tartlet – I was using 2 inch tart cups. Press the dough down and up the sides of the tart cup and place the cups on a cooking sheet – I made 12 tarts at a time and baked at 350 for 13 minutes.

Once cooled, put the apricot preserves and water together and microwave for 10-20 seconds.

Using a melon baller, scoop in custard mixture into the tart. Arrange cut fruit on top and then brush with the glaze.

These are best if you fill the tarts with custard RIGHT BEFORE serving. If you let them sit longer than 30 minutes, the custard starts to soften too much.
Notes
I bought my tart cups at Bed Bath & Beyond for .49 cents each.
On all plans these are 5 points. If you substituted Truvia in place of the sugar it would be 3 points each.
If you count calories or macros: with sugar: 145 calories, 5 fat, 22 carbs, .7 fiber and 3 protein
With Truvia: 114 calories, 5 fat, 14 carbs, .7 fiber and 3 protein
I don't make many desserts, but if you like cheesecake – check out my mini cherry cheesecake recipe.
These mini fruit tarts would be perfect for Mother's Day!