These oat pancakes are what I like to call a basic pancake.  
It's simple because you can dress it up however you like – add poppy seeds and lemon, add blueberries – whatever you have on hand!
What kind of oats can I use?
You can use quick oats or regular oats.  Just don't use steel cut oats.  I had a follower make them with steel cut oats and that turned out to be an epic fail.
What kind of milk can I use?
Again, whatever you have on hand.  I used unsweetened almond milk, but you can use cashew milk, or oat milk and the points won't change.  If you use whole milk, add a point per pancake.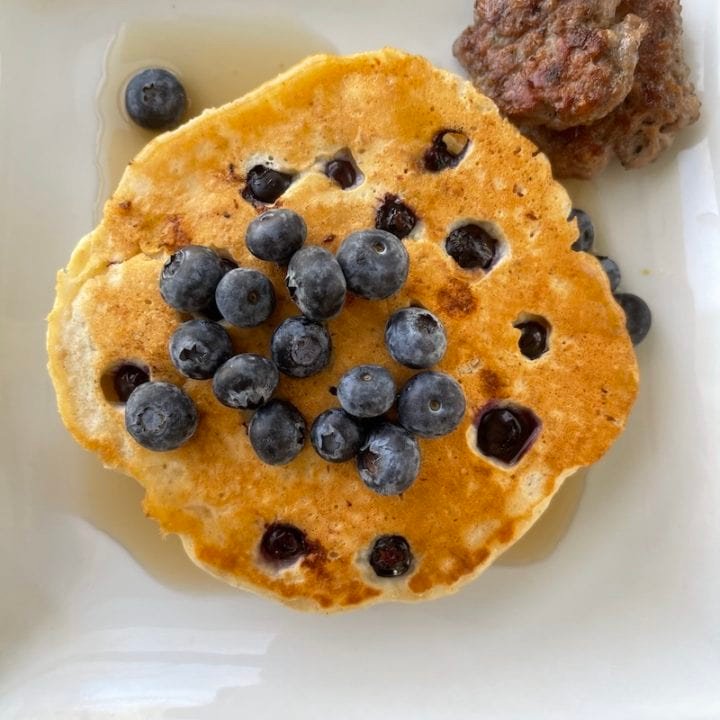 Oat Pancakes
Yield:
9 pancakes
Prep Time:
5 minutes
Cook Time:
5 minutes
Total Time:
10 minutes
These are a delicious basic oat pancake that are perfect for meal prep.
Ingredients
1.5 cups flour
1 cup oats
2 teaspoons baking powder
1/2 teaspoon cinnamon
1 tablespoon sugar
1/2 teaspoon salt
1 cup nonfat greek yogurt
1 cup unsweetened almond milk
2 eggs
1 cup blueberries (optional)
Instructions
Mix all the ingredients together (except optional berries).
Let batter sit at least 5 minutes.
Use 1/3 cup measure of batter for each pancake.
Cook 2-3 minutes a side.
If you plan to freeze these, place pancakes on a baking sheet individually for 30 minutes. Store in ziptop bag, then you can pull out as many as you want.
I usually put my pancakes in the air fryer or in the toaster frozen, and run the toaster twice until heated through.
Notes
On #teampurple each pancake is 2 points, on #teamblue each pancake is 3 points and on #teamgreen, each pancake is 4 points. If you count calories or macros, each pancake is 141 calories, 2.2 fat, 23 carbs, 1.6 fiber and 6.7 protein.
Can you eat pancakes if you are diabetic?
I get this question asked all the time and the answer is yes.  Is it higher in carbs, yes, but I take insulin and use my Freestyle libre 2 to manage my diabetes.  By adding protein to recipes, like this recipe using a whole cup of nonfat greek yogurt, it helps balance the insulin spike.  Serving sausage on the side also helps with the blood sugar spike.
There are so many pancake recipes on my blog – I hope to be hiring a professional to make my website more user friendly – so many hidden recipes that no one (including me!) can find.  It will be so nice when that is completed, so stay tuned.
What is your favorite breakfast?  Sweet or savory?