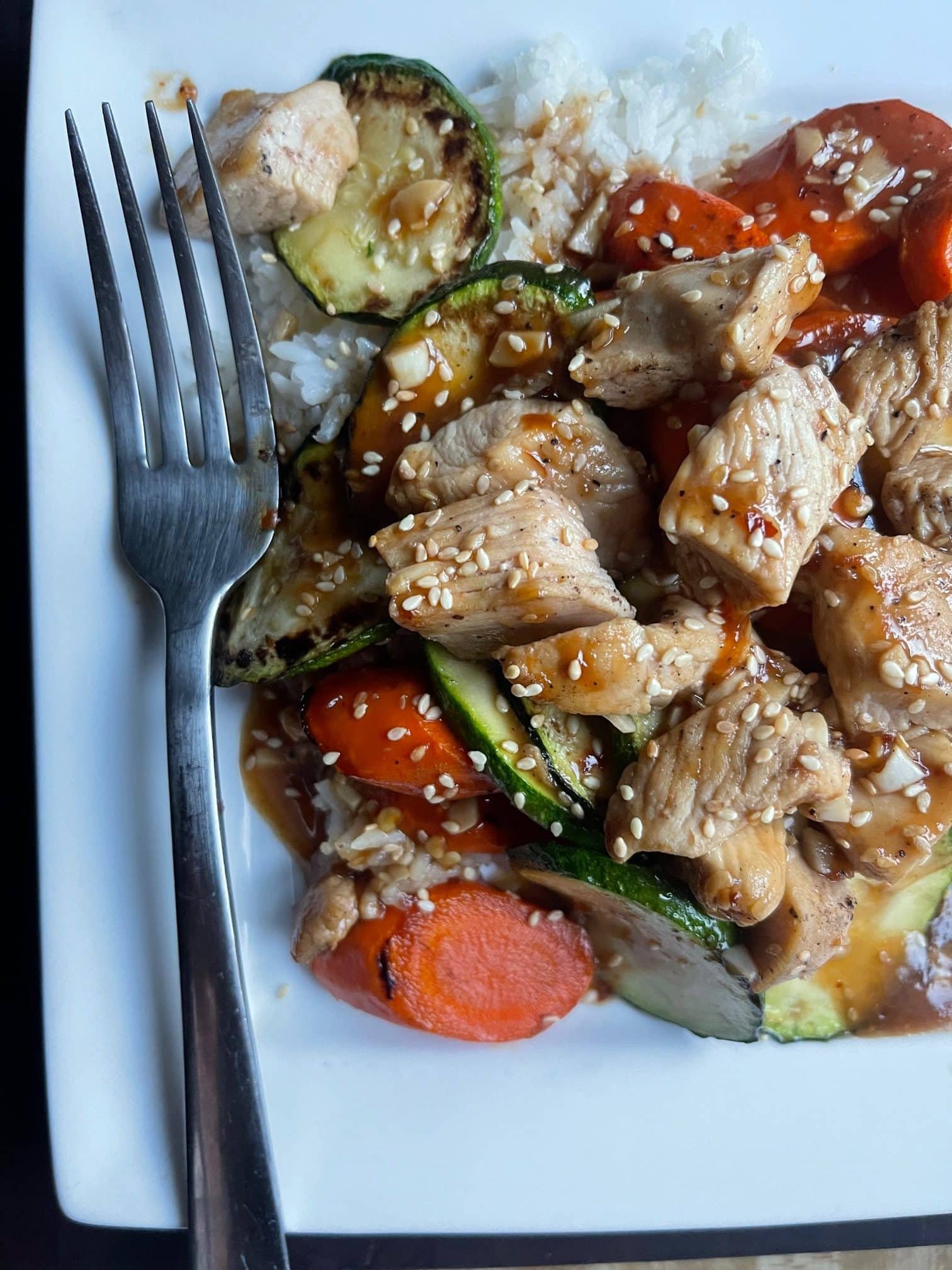 I have no idea if this sesame chicken is authentic other than it has sesame seeds in it, but the sauce is money!
My Dad used to love egg foo young growing up, and this sauce is a spicier version of that brown sauce.  It brought back a flood of memories.
What is sambal oelek?
Several people messaged me last night when I made this dish in my stories.  Sambal oelek is a hot red chile paste made with hot chili peppers, salt and vinegar.  
You can find it in most grocery stores on the Asian aisle.  If for some reason you can't find it, substitutions could be crushed red chili flakes, sriracha or gochujang. 
What are the changes to the 2021 Weight Watcher Plan?
WW PersonalPoints™ just launched on November 8, 2021.  This means that you take a personal assessment to determine the right plan for you.  Which means everyone could have different "zero point" foods (read not calorie free foods), which makes it impossible for me to put the WW points for my recipes.
My friend Stephanie (she has amazing recipes!) figured that we could just provide our WW recipe link to help!
For example:  
My Bizzy Kitchen Sesame Chicken for WW Tracking
If you have a paid WW membership, once you click that link above, it will track to your WW app and adjust depending on your personal points.
Ingredients
4 ounces chicken, cubed
2 cloves garlic
1 tablespoon coconut aminos
1 tablespoon soy sauce
2 tablespoons rice vinegar
2 teaspoons Truvia brown sugar
2 teaspoons sambal oelek
2 teaspoons cornstarch
1/4 teaspoon fresh pepper
1 teaspoon sesame seeds
1 cup sliced zucchini
1 cup sliced carrots
Instructions
Mix the chicken with the garlic, coconut aminos, soy sauce, vinegar, brown sugar, sambal oelek and pepper together. Marinate the chicken for at least 5 minutes. (This can be done the morning you plan on making it too!).
When ready to cook: heat a skillet with avocado oil spray. Cook the carrots for 3 minutes a side, and remove from pan. Add zucchini and cook 3 minutes a side. Set aside.
Using tongs, remove chicken and place in skillet and cook 3-5 minutes, until the chicken is cooked through. Remove from pan.
Reheat the rice.
To the remaining marinade, add the cornstarch and add to skillet and cook for 3 minutes, or until thickened.
To plate: Add rice to plate, top with zucchini, carrots and chicken and drizzle the sauce over the top.
This recipe looks really simple, and it is, but the sauce MAKES this meal.  You can substitute any of your favorite veggies.  If brown rice is a zero points for you, substitute that in place of the white rice.  My recipe is for the points for the chicken, sauce and veggies.  For me, the white rice cost me 6 additional points.