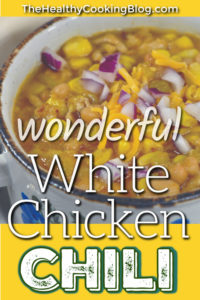 Perfect Winter Soup White Chicken Chili Recipe
Easy White Chicken Chili recipe from Eating Well to Fight Arthritis and Inflammation cookbook makes a perfect one-pot dinner solution for the cooler months. This easy chicken chili recipe always pops up high on the menu list, and nothing is more comforting than a fire in the fireplace and a warm, hearty easy chicken chili simmering on the stove. This white chicken chili recipe with a fantastic flavor has only about 10 ingredients and feeds tons of people because soup recipes double easily! Make it easy on yourself and make it ahead of time, and remember, the longer it sits, the better it gets! Also, it is a diabetic easy chicken chili recipe making it one of the top healthy easy recipes!
Wonderful White Chicken Chili
Love this easy white chicken chili recipe starting with ground chicken (ground turkey may be used). A satisfying warm bowl of chili with minimal preparation and maximum taste and a definite go-to easy chicken chili recipe.



1

lb





ground chicken




1





onion

chopped




1

tsp





garlic

minced




1

(16-ounce) can





white navy beans

rinsed and drained




2

(14 1/2-ounce) can





low-sodium fat-free chicken broth




1

(4-ounce) can





green chilies

diced




2

cups





frozen corn




1

tsp





ground cumin




2

tsp





chili powder
In large nonstick pot, cook chicken, onion, and garlic until chicken is done. Add remaining ingredients and bring to boil. Reduce heat and cook, covered 15 minutes, until heated through.
Per Serving: Calories 183 kcal, Calories from Fat 11%, Fat 2g, Saturated Fat 0g, Cholesterol 36mg, Sodium 378mg, Carbohydrates 24g, Dietary Fiber 5g, Total Sugars 4g, Protein 18g, Dietary Exchanges: 1 1/2 starch, 2 lean meat
Easy Chicken Chili From Arthritis Cookbook With Anti Inflammatory Recipes
Who doesn't like a delicious hearty, chunky chili recipe that is also simple to make and good for you!  In Holly Clegg's arthritis cookbook, there is an assortment of everyday recipes to help fight inflammation.  This diabetic white chili recipe packs the most flavor with the least amount of ingredients – keeping it simple!
Anyone can easily make these recipes making eating healthy easy for you! Eating Well To Fight Arthritis gives you simple healthy recipe options like this white chicken chili recipe to inspire home cooking.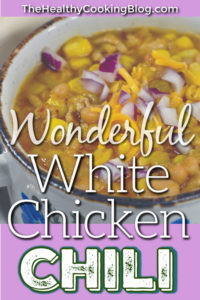 Freeze Soups for Another Quick One-Pot Meal on Cold Miserable Day
Here's a few freezing tips because when it comes to soups, chilies, and gumbo, remember the longer it sits, the better it gets.
Cool and then pour into airtight containers and leave room at the top for expansion.
Zip lock freezer bags are great for storage because they stack easily in the freezer.
Take out the night before using, thaw in the refrigerator, and reheat.
Team Holly is so excited to give you Holly's absolute favorite Southern recipes in this Louisiana Menus: Four Menus with a Cajun Flair downloadable e-book available for only $1.99! If you thought Southern comfort food isn't healthy, think again. You get 4 favorite healthy Cajun menus, dinners, brunch and lunch; and best of all, it comes with a SHOPPING LIST so all the work is done for you from your menu to your grocery run!
Healthier and EASY-TO-MAKE Southern Cajun recipes with the nutritional information.  If you have health concerns, gluten-free and diabetic-recipes are highlighted throughout.  DOWNLOAD this go-to guide of delicious meals.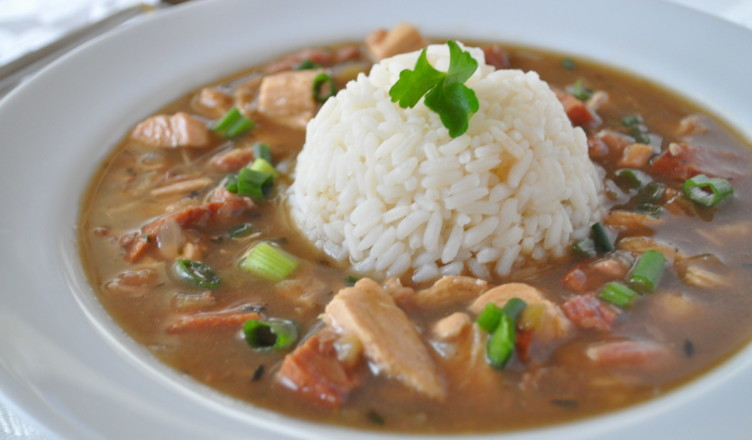 Gumbo tops the list when we talk about soup in Louisiana and everyone loves this simple Chicken and Sausage Gumbo from Holly Clegg's Gulf Coast Favorites cookbook. This easy gumbo recipe comes with secret tips for the perfect healthy roux trick. Check out all of Holly's easy  healthy soup recipes.
Love these expandable Colanders To Drain Beans and Pasta
You will love these expandable colanders for several reasons. First, these colanders are easy storage and don't take up much space. People say all the time they just don't have enough room for all their kitchen gadgets so this is a great solution.
These colanders  are better than the metal one because they are lighter and easier to use. We highly recommend this colander or any expandable colanders.  Also, this colander comes in two different sizes and that's always a help when cooking.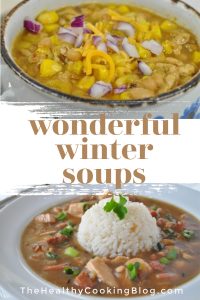 Soups with Chicken: Easy Chicken Chili and Chicken Gumbo Are Crowd Pleasers
Doesn't it seem there's always extras that show up for dinner? Or, what's better than to have leftovers for another meal or to pop in the freezer to pull out on a busy night.  We love chili recipes and this simple chicken chili recipe tastes like a long stirred chili, but easy! My friend who doesn't like to cook just sent me a photo of my white chicken chili recipe and said that she earned bragging rights after serving the meal to her family. We can't wait for you to try all our soups and chili recipes.  Many are diabetic-friendly but all are delicious!
Get All of Holly's Healthy Easy Cookbooks
The post White Chicken Chili Recipe and Chicken Gumbo Top Wonderful Winter Soups appeared first on The Healthy Cooking Blog.