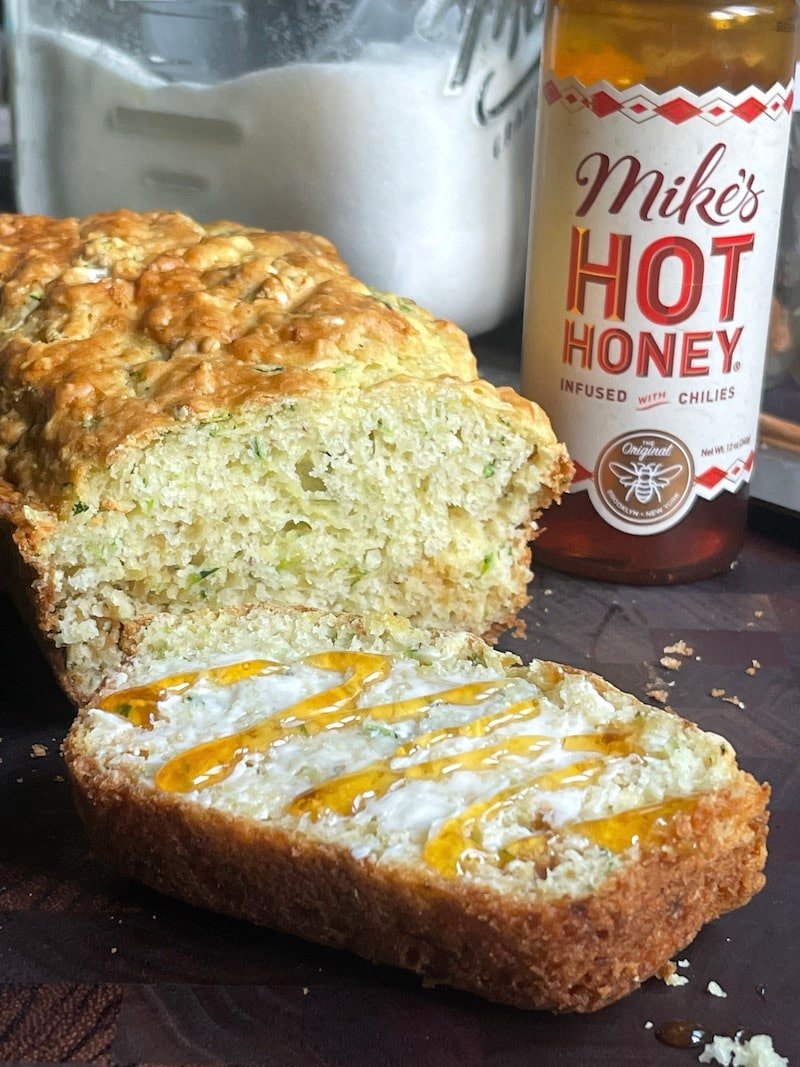 My Grammy used to make the best zucchini bread.  I ask my Aunt Martha for the recipe.
Guess what?  The original recipe calls for two cups of sugar AND 3/4 cup vegetable oil.  No wonder it was so good!
How do you lighten up zucchini bread?
Two things lightened up this zucchini bread recipe.  First, I reduced the oil to 1/4 cup and secondly, I added nonfat Greek yogurt and unsweetened almond milk.  Still delicious! Side note though, these are not overly sweet, so add additional artificial sweetener or more real sugar according to taste.
Ingredients
3 cups flour
2 teaspoons baking powder
1 teaspoon baking soda
1 teaspoon cinnamon
1/4 cup oil (I used grapeseed)
1/2 cup nonfat Greek yogurt
1/2 cup unsweetened almond milk
3 large eggs
1/2 cup sugar
3 cups zucchini
Instructions
Heat oven to 350. Mix all the ingredients together and divide between two baking pans.
Bake for 45 minutes.
Let cool before removing.
Serve with soft butter and a drizzle of honey.
Notes
This bread is NOT overly sweet, so add artificial sweeteners to taste for no added calories/points. If you add more real sugar, adjust your points accordingly.
Nutrition Information:
Yield: 16
Serving Size: 1
Amount Per Serving:
Calories: 167Total Fat: 5gSaturated Fat: 1gTrans Fat: 0gUnsaturated Fat: 4gCholesterol: 35mgSodium: 157mgCarbohydrates: 26gFiber: 1gSugar: 8gProtein: 5g
Is there a family favorite recipe you'd like me to lighten up?  Let me know in the comments!